New from DEHN, the world leaders in Lightning & Surge Protection devices, is the 952440 Modular Surge Arrester Learn more here and download the data sheet for your records...
DEHNguard - Safety at the Highest Level
The new Dehn 952440 modular surge arrester of the DEHNguard ACI product family provides safety at the highest level. This is down to ACI technology (Advanced Circuit Interruption) which replaces the backup fuse with a switch / spark-gap combination connected in series with a high capacity varistor.
New Technology Reduces Fault Current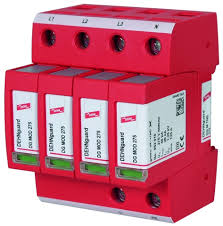 At the end of the service life of the ACI surge arrester, the new technology reduces any fault current to such an extent that not even the smallest fuses in the system are tripped. This means much greater availability and operational safety for the system in comparison with standard type 2 arresters with external fuses.
Easy Installation | Comply with New Regulations
The new internal arrester backup fuse has a further advantage:
Connection cross-section of only 6 mm²: Easier to install
A conductor cross-section of just 6 mm² is always enough for the active conductors and PE. 6 mm² Cu also makes installation easier because the bending radiuses are smaller. DEHNguard ACI therefore allows shorter wiring.
All this makes complying with the new requirements of the surge protection device assembly in the revised standards far easier to do.
Dehn 952440 Data Sheet Download Here
To enquire about the new Dehn Modular Surge Arrester range, please click the button below: