Machinery is placed in increasingly demanding environments. We are delighted to introduce a new Katko isolator to a new, high class of protection, IP69, perfect for washdown areas in manufacuring plants.

IP69K Isolators Suited For Washdown Areas
The enclosures of KER IP69K isolators are acid proof stainless steel, AISI316. This means excellent resistance against chemicals and corrosion.
This new IP class enables to place these products exposed to even hot pressurized water without jeopardizing the safety of the inner parts. This range covers isolators from 16A to 125A, available also as EMC versions.
Katko KER 16-1600A
Katko KER series is a combination of durable polycarbonate handle and stainless steel enclosure. Smaller sizes of enclosures up to 160A are AISI316 and larger ones AISI304 as standard. Large enclosed isolators are available from AISI316 material upon request. All of these products have the reliable, fully rated Katko isolator inside.
Katko KER R/RS 16-160A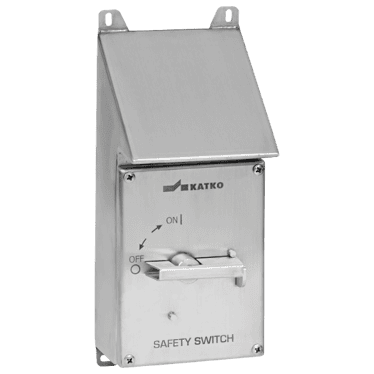 KATKO stainless steel Product Range (KER R/RS) is designed for the needs of Food & Beverage and Mining industries.
The AISI 316 enclosures provide a high level of protection. Even the handle is stainless steel to make the product totally insensitive to corrosive substances. The models with sloped roof help to keep production environment hygienic. These are UL-listed products. Suitable for use in:
Food & Beverage industries
Mining industry
Hazardous and demanding environments
ATEX/EMC Isolators Also Available
The combination of dust proof ATEX (Category 3D, zone 22) and EMC is also possible for this range. This is a perfect extension to Katko's reliable stainless-steel solutions, which can be considered as ultimate solutions for industries with extreme production environments.
New Katko Isolators & Switch Fuse Catalogue | Free Download
We have the new Katko catalogue available for download, with their latest product innovations and technical specs on their market leading range of Isolators & Switches.
Simply click here or the catalogue image below for access...