The Duracell company is proud to offer you its new brand - PROCELL - specifically designed to power professional devices and tools.
Procell Professional Batteries

As the world-leader in battery manufacturing, The Duracell Company understands how power requirements have changed as the landscape of professional devices has evolved. Using the expertise of our industry-leading engineers and through rigorous testing at our global R&D facilities, The Duracell Company is proud to present an innovation which is revolutionising the ever-expanding market of professional devices and appliances.
INTRODUCING the new Professional brand from Duracell – PROCELL – a complete range of Alkaline & Lithium Primary batteries, specially engineered to power devices used by today's professionals around the world.
PROCELL has the world's first dual portfolio of device-specific professional batteries, offering reliable and long-lasting power for both high-drain and low-drain applications:
PROCELL GENERAL PURPOSE is the battery of choice for low-drain devices and PROCELL INTENSE POWER offers an innovative solution for use in high-drain devices.
Choose The Right Battery For The Right Device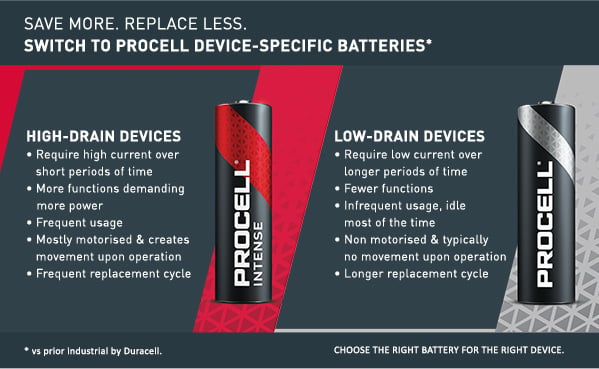 PROCELL dual portfolio of professional batteries could help your business to substantially reduce your replacement labour cost.
If you are a professional battery user or a company in any B2B market, please get in touch with our Sale Team HERE, who will be more than happy to support you and supply with device specific PROCELL professional batteries.
We will help you to select the right battery for your professional device and significantly reduce the cost of replacing your batteries.
Discover How Our Range Of Procell Batteries Can Help You Save Money …
Shop the full range of Procell Batteries on our Web Shop
Express Delivery - Easy Online Ordering - Live Chat Available