Klauke the world leaders in battery operated cutting, crimping & hole punching tools have just released their new LS50 Battery Powered Hydraulic Punching Tool.
The LS50FlexCFM is now available to order. The Punch Tool has a 360 degree rotating head making it easy to punch holes in hard to reach places of electrical enclosures. Also to increase the service life of the Punch Tool Klauke have introduced a pressure sensor that will cut power to the tool when sufficient pressure is applied and the hole is made.
LS50FlexCFM Product Features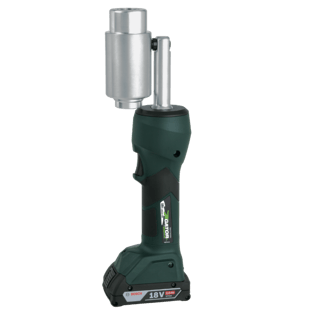 Choose your battery system: Bosch or Makita (CFB for Bosch - CFM for Makita)
All data can be easily read via Bluetooth
Balanced centre of gravity for easy handling and effortless operations
LED for work area illumination
Energy saving function with motor cut-out after successful operation
Manual retract as required
Always ready-to-use thanks to battery charge and service display
For Punching Square, Rectangular & Round Holes
The new LS50Flex tool is suitable for punching holes up to 104.8mm x 104.8mm
or for round holes up to 144.1mm diameter
Interested in the new Klauke LS50Flex?
Click below to submit your enquiry