Our partners Auer are world leaders in design and manufacturing of industrial signaling equipment. Find out more about the great Auer brand here...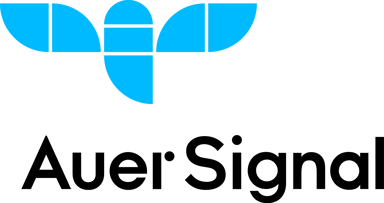 Signaling solutions by Auer Signal.
Since 1910, Auer Signal has specialised in the development, design, production and marketing of signaling solutions and is one of the world's leading manufacturers of signaling devices. We produce a wide variety of signaling devices, such as signal lights with various functions such as continuous light, flashing light and strobe light or electronic sirens and alarm horns in different volumes and shapes, but also tower lights.


Signaling solutions are used in many industries.
Signaling solutions are used in a wide variety of industries and always have one goal: to ensure the safety of your employees. Tower lights are often used, for instance, in plant construction, the automotive industry, logistics facilities, mechanical engineering and automation. Due to the usual high quality of our signaling solutions - Made in Austria – is the field of application of our signaling devices as diverse as our product portfolio
Tower lights with patented internal contact.
The latest tower lights are our Modul-Perfect 70 (PC7) and Modul-Compete 50 (CT5). Both use the new, patented internal contacting system. This not only ensures greater flexibility, but is also particularly future-proof. When developing and designing new signaling devices, it is important for us to set new standards and to grow beyond ourselves. The two new tower lights are a great example of this mindset. That is why we not only continuously work on new, innovative products, but also continuously improve our current products in order to be able to offer you the best and most comprehensive range of signaling devices.
7 Reasons to Choose Auer Signal?
1. Production is completed to the highest industrial standards.
2. Every product they create is of exceptional quality.
3. They have products for every application.

4. They produce tailor-made signaling equipment.

5. Their products comply with the required industry standards.

6. They keep their promises (and have been doing so since 1910).

7. They always deliver on time.
Watch the latest product overview below
Access Auer Signal Product Guides Here