Carpal tunnel or repetitive strain injury is wide spread in the electrical industry. Reasons for this include continious crimping of cables of varying sizes and diameters.
Reduce Repititive Strain Injury
With a manual force of anything up to 20kg per crimp, excessive strain on the wrist and forearm will occur over time. Taking measures to guard against this happening and avoiding employee absences is a wise choice for any electrical contractor or panel manufacturer.
Electromechanical, battery powered crimping tools are becoming more prevelant in workshops and on sites all over Ireland and the U.K. The force needed to crimp using one of these tools is around 90% less than using a hand tool.
Benefits Of A Battery Powered Crimping Tool
Lutz Remmel, Product manager of Klauke explains - "When we developed our electromechanical micro, the aim was a crimping tool that is easy to use and would allow ergonomic and health-promoting work, thereby combining the benefits of a manual crimping tool with the ease of a cordless one in a single device."
Using Electromechanical tools will immediately reduce the risk of carpal tunnel in employees, as well as the following advantages -
best crimping results using the minimum force

optimum crimp by using correct branded cable lugs with the matching tool

avoid under or over crimping thanks to auto release when crimp is made

simple and reliable operation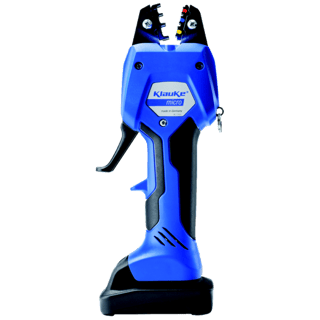 Klauke EK50ML for Copper Lugs - Insulated Crimps - Bootlace Ferrules
The Klauke EK50ML tool can be operated on handed, is suitable for cripming lugs, crimps and ferrules and solves the problem of repititive strain injury in workers.
Is The Investment In A Battery Tool Worth It For Me?
The decision to invest in an electromechanical crimping tool should be made according to economic calculations.
For specialist operations in which large numbers of connections have to be processed quickly, purchasing such tools makes perfect sense.
Electro mechanical crimping not only increases the efficiency of work processes, it also protects the health of employees. And since maintaining good health also means sustaining physical strength, such an added investment can benefit employer and employee in equal measures.
Something here of interest?
Click button below to request a call back from our sales team...