Sifam Tinsley have introduced a new modern design power monitor that will measure and display electrical power quality parameters for two 3 phase circuits. This does away with the need for two separate meters.
Replace Two Digital Energy Meters With One
The Sifam AP15-3DL-RJ12 meter is designed specifically for a split load board where power and lighting has to be measured separately, possibly due to building regulations. It will measure & display electrical power parameters for two 3 pahse circuits.

This one meter covers various applications, again replacing the need for various models -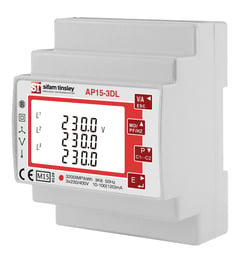 Three Phase Networks

Built In Pulsed

RS485 Modbus

Import & Export kWh
Pulsed Outputs | BMS Compatible
Manufactured to the highest standards, the Sifam AP15 Multifunction Energy Meter utilizes the latest microprocessor and technology, coming with a back-lit display as standard and 16 different measuring parameters.
With built-in pulsed outputs and RS485 Modbus RTY, it is fully compatible for integration with BMS and remote monitoring systems.
Free Datasheet PDF | Download Here
Click on the image below to where you can download the official datasheet for the Sifam AP15-3DL Energy Meter...