The Sifam range of Digital Energy Meters and Analysers is ever expanding. Here we give an overview of the range....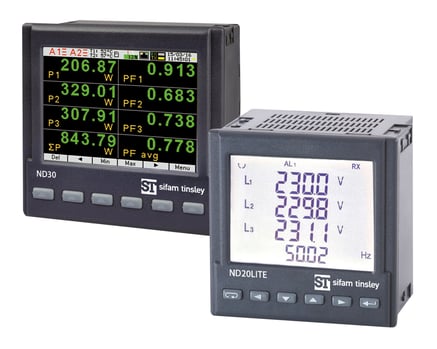 SifamTinsley Multi function meters MFM provide measurement and display of all major electrical and power quality parameters including true rms values, power quality data and measurement of harmonic distortion up to the 51st within low and medium voltage applications.
Designed to meet customer requirements the range offers various optional outputs covering pulsed, analogue, PT Input, digital I/O and communication outputs.
Digital Meters for Measuring Energy Consumption
Power supply system in industrial facilities

Power industry (substations, generators, turbines)

Heating industry (heat and power plants, boiler rooms)

Monitoring of power network parameters

Monitoring of power quality and consumption
Sifam ND Digital Meters - Product Features
User programmable system types, 1-phase 2-wire or 3-phase 3 or 4-wire balanced and unbalanced.

4-quadrant power and energy measurement

Measurement of THD and harmonics

Free Configuration and monitoring software available (1 meter license)

LCD or LED displays

Configurable sequence of displayed measurements

RS-485 Modbus communication, Ethernet

Operated current transformers (CT) and voltage transformers (VT)

User programmable, Alarming based on selected parameters

Pulse output for energy retransmission

Data archiving in the internal memory

Internal RTC

Protection grade from the front window: IP65
SIFAM ND20 LITE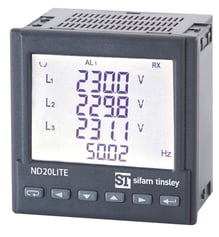 The ND20LITE meter is a digital programmable panel meter destined for the measurement of single-phase power network parameters (2-wire network) and 3-phase, 3,4-wire network in balanced and unbalanced systems with the simultaneous display of measured quantities on a LCD display.
The meter enables the control and optimization of power electronics devices, systems and industrial installation operations.

SIFAM ND30-11200U1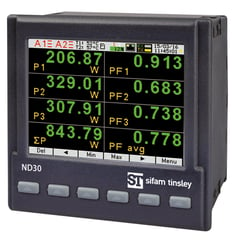 The ND30 meter is a programmable digital instrument designed for the measurement of 1-phase 2-wire and 3-phase 3 and 4-wire power network parameters in balanced or unbalanced systems. The measured values are displayed on a 3.5″ TFT full-colour screen.

SIFAM AP50 METER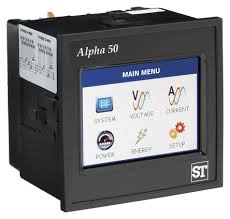 Alpha 50 is a compact multi-function instrument with touch screen LCD utility which measures parameters in 3 phase and single phase Network & replaces the multiple.

For more information on any of the products listed above
please send a mail to websales@demesne.ie
or call us on +35314047700