The new grid and system protection NA003-M64 from TELE Haase combines all standards in one device and can therefore be used universally. When operating alternative power generation, grid and system protection is required by law and disconnects the power generation system (photovoltaics, generator, battery buffer) from the grid in the event of a power failure. This ensures the safety of the distribution network, machines and people.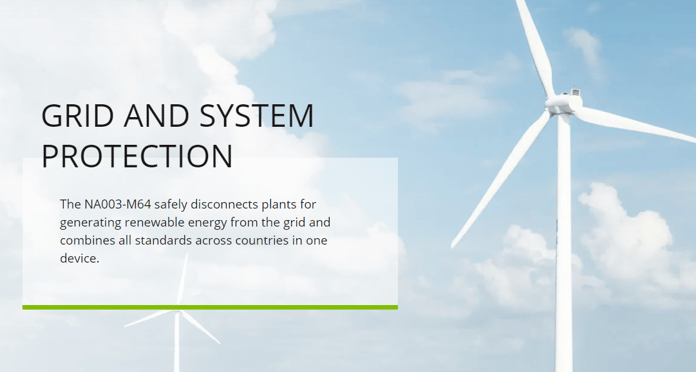 In case of a pre-defined state of grid failure the grid and system protection separates the energy generator (photovoltaics, generator, battery buffer) from the grid. Its function is very important for the reliable protection of the power grid and generating plants because it ensures that the connection of an energy generator does not impair the function or safety of the distribution grid.
Functions
TELE's grid & system protection NA003-M64 consists of two components:
Protection relay that measures the grid voltage and grid frequency. It also contains the actual protection functions and generates the signal for grid disconnection.
1-2 tie switches that ensure the actual disconnection from the mains.
For high availability of the supply network, short-term grid disturbances must not separate the generators from the grid. This function, called Fault Ride Through (FRT), refers in particular to short-term undervoltages and overvoltages. Depending on the type and power of the energy generator, different requirements apply, those can be adjusted via the parameterisation of the NA003-M64.
Your advantage
One device for local & international markets
Easy handling for service personnel and commissioning engineers
Pre-configured parameter sets for different countries in Europe & worldwide
Individual solutions can be implemented through a variety of configuration options
Integrated FRT (Fault ride through)
Replaces older devices without changes in the control cabinet due to design and availability of older certificates.