Distribution blocks face increasing requirements. Power in plant and machinery often needs to be distributed to additional consumers such as motors – as efficiently as possible, of course.


Experts in Electrical Technology Since 1919
Conductor cross-sections of increasing sizes with minimum space requirements have placed the focus squarely on distribution blocks for users.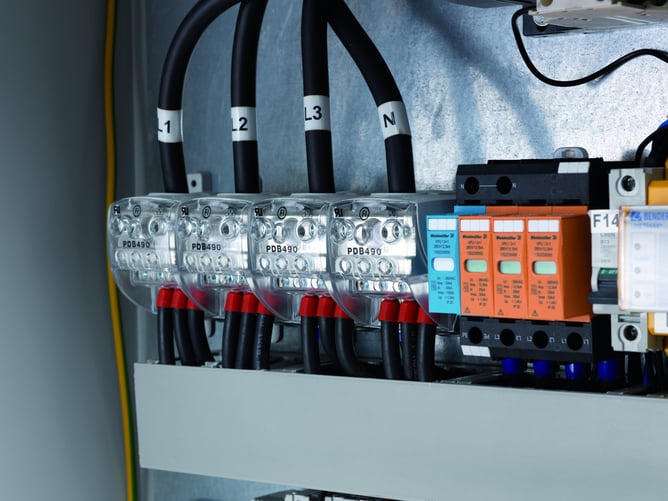 The PDB series of distribution blocks from HORA eTec benefits from a high degree of user-friendliness, cost efficiency and safety, providing an ideal solution wherever power is supplied and distributed through conductors with relatively large cross-sections. Every version in the series has approval for connection to aluminium or copper conductors thanks to a specialised coating on the brass body throughout the component..
Step design in distribution blocks to make conductor insertion visible
The design ensures excellent user-friendliness in HORA eTec distribution blocks. The step design in the brass body leaves conductor insertion in clear view at all times through a transparent cover. This makes assembly of the distribution blocks easy and safe while wiring up the terminals. Users already save costs due to the optimized design. The simplified screw assembly saves significant amounts of time.

There are no torque losses during assembly as brake screws are not needed. Special chambers prevent loss of screws in the plastic casing. Whether quick mounting on a TS 35 rail according to IEC 60715 / DIN EN 50022 or directly screwed onto the mounting plate, HORA eTec distribution blocks are always easy and versatile to install.
Distribution blocks suitable for connecting flat, round and sector-shaped solid, stranded or flexible conductors
HORA eTec distribution blocks are ideal for connecting round or flat conductors. The outputs feature a large number of smaller terminals for further power distribution. Apart from that, extending the number of outputs is easy and safe as the distribution blocks can be stacked and extended to any requirement using phase rails for smaller distribution blocks and pre-assembled flat copper bridges as accessories for larger ones.

These accessories even make it possible to triple the number of outputs, allowing further power distribution from one input to large numbers of additional conductors instead of installing new supply lines. All distribution blocks can be combinded freely with one another in a modular approach making it very easy to construct multipolar systems.
The HORA eTec distribution block range comprises six different versions:
PDB 160 (160A)
PDB 210 (210A)
PDB 220 (220A)
PDB 270 (270A)
PDB 400 (400A)
PDB 490 (490A)
Distribution blocks designed to meet increasing safety requirements
All versions are

finger-safe on all sides

according to DIN EN 50274, and also feature short-circuit resistance according to the exacting SCCR standard to add to the high level of safety. This means that HORA eTec distribution blocks meet current and constantly increasing safety requirements on terminal technology. Distribution blocks for neutral conductors are equipped with transparent blue covers. The plastic casing also includes individual connection labels. The ergonomic design with rounded edges as goods as eliminates the risk of injury during assembly.

HORA eTec distribution blocks are approved worldwide according to VDE, UL, CSA, FI and EAC. The plastic casings are self-extinguishing and halogen-free. HORA eTec provides custom brand labelling and delivery in customised industrial packaging.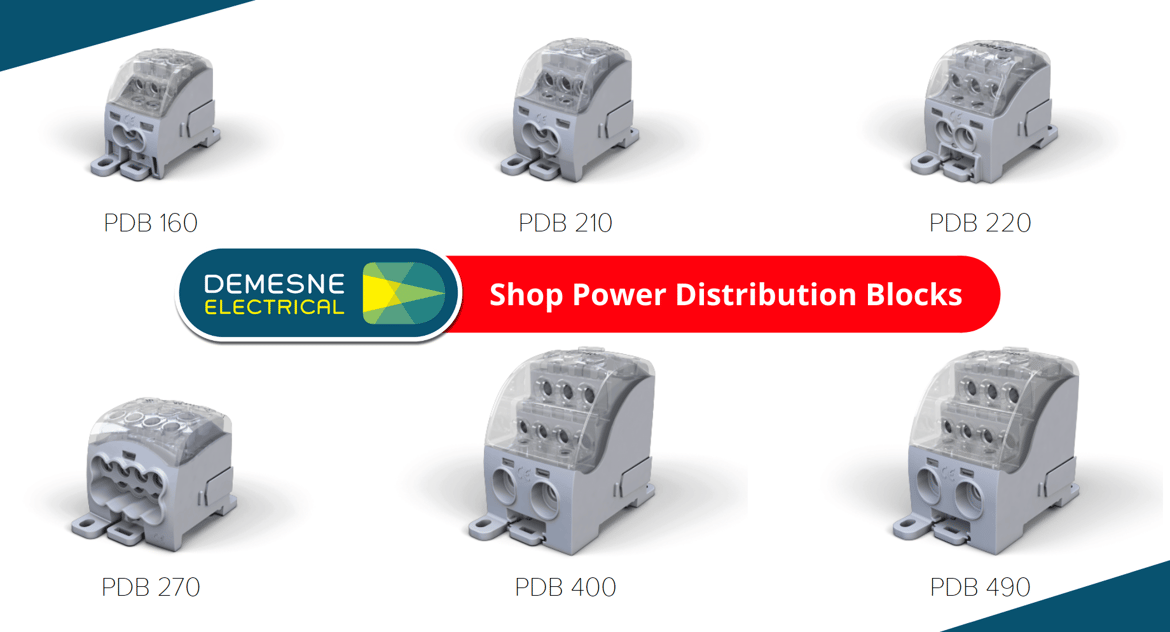 Distribution Blocks Product Benefits
Suitable for all round and sector-shaped solid, stranded or flexible conductors in copper or aluminium
Cost savings from optimized brass body
innovative design with rounded edges
User-friendliness with simplified screw assembly, captive screws attached to the plastic casing, no brake screws needed
Universal round or flat conductor connections on a large number of terminals
Horizontal and vertical installation as well as free combination and stacking arrangement with component connections using conductor bridges
SHOP DISTRIBUTION BLOCKS AT DEMESNE TODAY