A question we get asked quite a lot, are the CATU Arc Flash garments ATEX rated? Find out more here...
Are Arc Flash Garments ATEX rated?? … No !
No PPE available on the market can be ATEX. The Directive 2014/34/EU relating to equipment and protective systems intended for use in potentially explosive atmospheres does not concern the PPE. Always refused to accept the use of the term "ATEX PPE" regarding this and prefer the use of -PPE intended for the use in potentially explosive atmospheres
Are Our Garments Intended For Use In Potentially Explosive Atmospheres?? ... YES!
The PPE Regulation 2016/425 specifies the following: "PPE intended for use in potentially explosive atmospheres must be designed and manufactured in such a way that it cannot be the source of an electric, electrostatic or impact-induced arc or spark likely to cause an explosive mixture to ignite"
Our CAT'ARC range complies with the EN 1149-5. So, wearing this anti-static garment must avoid that the garment itself causes sparks that could be at the origin of a fire. Furthermore, implicitly, the burn hazard is mentioned in the PPE Regulation. CAT'ARC complies with the ISO 11612, ensuring a protection against Heat & Flame.
Multi-Risk & Arc Flash Garments For The Working Environment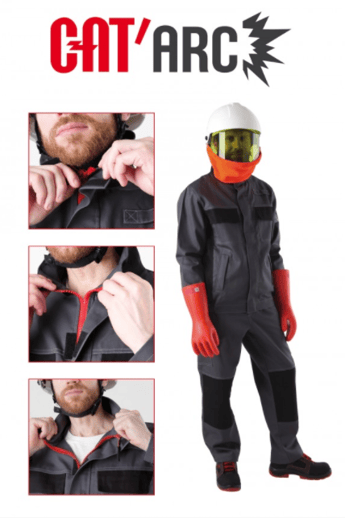 To meet growing demand for protection of electricians facing arc risks and also risks associated with the working environment, CATU is launching a new ergonomic range of Arc Flash and multi-risk protective clothing for routine use, featuring a fabric that combines lasting safety, comfort and resistance.
Available for the time being as Class 1 12 Cal/cm2, the range complies with the following standards:
IEC 61482-2 on thermal hazards of an electric arc

American NFPA 70E standard

EN ISO 11611 on protective clothing for use in welding

EN ISO 11612 on protection against heat and flame

EN 1149-5 on properties for electrostatic dissipative protective clothing.
The range includes ergonomic 'benefits' that make a difference, such as a 'red panic zip', specially designed to remove the garment quickly and easily in the event of an accident. This original zipper makes it possible to remove the PPE up to twice as quickly as similar PPE with a standard zipper.
Arc Flash Garments from CATU Key Benefits
Design & Business Expertise Make Them Comfortable & Easy To Use

Provides Arc Flash (12cal/cm2) & Multi-Risk Protection On A Daily Basis

The "Red Anti-Panic Zip" Is Specially Designed To Quickly & Easily Remove Your Clothing In The Event Of An Accident

Customise Your Garments With Your Own Logo!

Our ergonomic protective clothing which can be worn on a daily basis thanks to a fabric that combines safety, comfort and durability

Our range now includes a work jacket specially designed to be worn over normal clothing for short-term operations (e.g. cutting operations)

We Have The New 2020/2021 CATU Catalogue Available For FREE Download
Packed Full Of Products For Electrical Safety & Protection…
PPE - Lockout/Tagout - Detection - Measurement - Signalling - LV Live Working Tools & Much More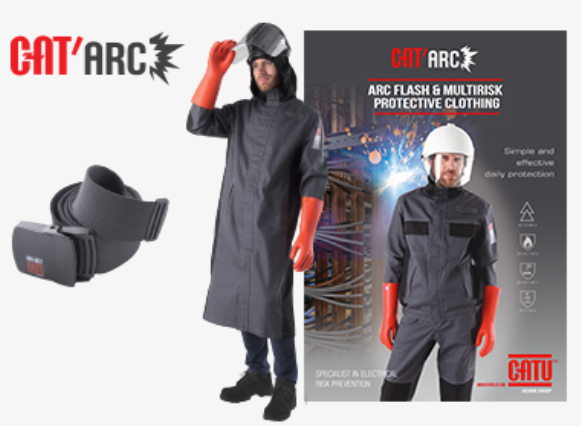 You Can Get In Touch With Our Expert Sales Team Here - We're Ready To Answer Any Questions You May Have!