Protect electrical cables and avoid short circuits and possible arc flash by ensuring you are using the correct flexible conduit. We have a few different options for you to choose from to best suit your application...
Choosing the correct flexible conduit for your application could be a matter of life and death for you or others on site.
Below we outline some options for you to consider when you are looking to protect electrical cables on site.


Iboco GSI Flexible Conduit
IBOCO's new I-Flex liquid-tight flexible tubing provides electrical cable protection during routing applications. I-Flex is designed for maximum flexibility and can be used in extremely tight quarters.
IBOCO's tubing is excellent for general applications where fast installation and maximum flexibility are required.
It is also ideal in areas where movement, vibration, or flexing is a problem.
I-Flex Flexible Liquid-Tight PVC Tubing provides tremendous tensile strength and has a smooth interior wall for pull-out protection and can withstand temperatures from -4ºF up to +140°F.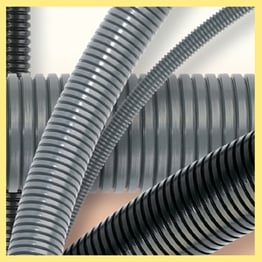 Interflex Low Smoke Halogen Free Flexible Conduit
The Interflex AGT range of flexible conduit is a medium-wall and flexible corrugated conduit. Suited for insulating and mechanical protection of cables in the electrical installation of machinery and industrial equipment in accordance with standard EN 60204-1 (safety of machinery) and in the automotive industry.
The AGT range is a low smoke halogen free conduit, meaning it is suitable for installation in public places such as schools and hospitals.
In case of fire this conduit will not emit any toxic fumes or thick black smoke, as non LSHF conduits would.
Euro 2000 DMC Liquid Tight Conduit c/w Metal Insert
The DMC range of Flexible Conduit from our Italian supplier Euro 2000 has a smooth insulation with a metal inner core running through the centre giving it a strong mechanical resistance than the conduits above.
This RoHS compliant flexible conduit has an IP67 rating when the Euro2000 gland is fitted, making it suitable for damp/wet conditions. The outside insulation is self extinguishing in case of fire and can operate sufficiently in temperatures between -15 to + 70 degrees celcius.
Euro 2000 DMA Flexible Conduit c/w Metal Insert
The DMA Flexible Conduit is a lighter grade, more cost effective conduit than the DMC conduit mentioned above. It comes with a corrugated finish and where a good mechanical resistance is required. It has a metal inner core as per the DMC above but with an IP54 rating.
IP65 can be achieved by using a special AG yellow ring placed on the conduit with the gland.
Low Smoke Halogen Free Liquid Tight Flexible Conduits available on request