In conjunction with our partners of more than 25 years ETA, we are delighted to be introducing a new range of wall mounted electrical enclosures to the electrical industry. The new ECOR range will replace the ST range of enclosures.

Established in 1978, in Italy, with over 40 years of experience in steel sheet, stainless steel and extruded aluminium production, ETA represents a safe and recognised benchmark for the global electrical enclosures market as a manufacturer of high quality innovative solutions for the Industrial automation, LV energy distribution and IT industry.
The ECOR Wall Mounted Enclosures launch September 2020 in Ireland. As ETA's exclusive distributor in Ireland, Demesne Electrical will have a complete range of the new ECOR wall mounted enclosures available from stock in our 3 branches nationwide & also here on our web shop.
These innovative new enclosures bring many new features & benefits to all users of electrical enclosures.
ECOR Size Ranges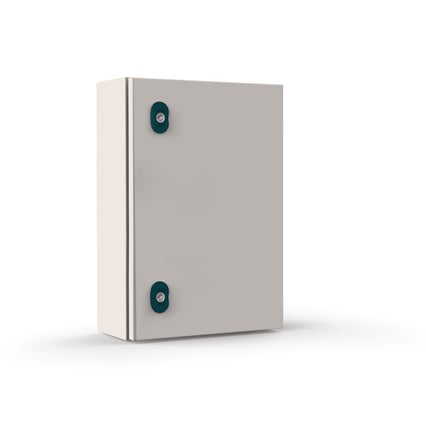 Standard sizes: from 200 x 300 x 150 to 1200 x 1200 x 300
CUSTOM sizes: from 300 x 300 x 120 to 800 x 1200 x 300 with production "to the millimetre" (maximum depth. 350: 600 x 1000 x 350) with metric or imperial units of measure.
Customisation Also Available
Type and colour of the finish: textured, smooth, polyester, epoxy-polyester, RAL, ANSI, MUNSELL.

Special finishing cycles: specific powder coatings for outdoor applications, increased thicknesses, dual colour (interior/exterior).

Machining and Louvres.

Stud bolts.

Accessory installation.

Silicone gasket.

Thermal calculation.

Bespoke projects.
Watch Our Virtual Product Tour
ECOR Product Specs & Features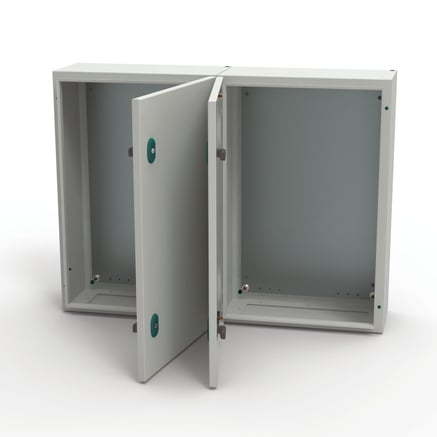 The ETA ECOR range will be available in the standard mild steel version as well as in an ATEX & EMC version, with full customisation available in all sizes. This ensures that we have the correct enclosure no matter what your application is.
Just some of the great new features on the EMOX range includes the ability to mount 2 enclosures side by side, as per the adjoining image, with their doors being able to open simultaneously, as well as the ability to fit mounting plates inside the box at different depths.
Also, the new external wall mounting system allows mounting quicker & easier than ever before.
Complying with the main international standards, ECOR enclosure protection degree is:
IP66

Nema 4 (Nema 12 for double door and plexi door)

P

rotection rating ensured by the two-component polyurethane foam gasket

IK10 impact resistance rating
Talk to our Team Today
Talk to us today about your next electrical enclosure project, simply click here or the button below to submit your enquiry...