Some great news for fans of home automation products. Energenie are delighted to announce a new partnership with Nest Learning Thermostat.
Home Automation Made Easy
This gives the user even more comfort as now the Nest Learning Thermostat can now be controlled via the Energenie MiHome app on your smartphone or tablet.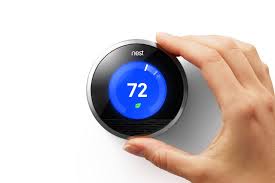 Benefits of Nest and MiHome
Using the Energenie MiHome app, users now have the option of setting up Home and Away status and select which radiators mirror the level of comfort that has been determined by your Nest Learning Thermostat.
You can now even set up exception periods and personalize an individual rooms temperature at any given time, all from your smartphone. Perfect if you get delayed in work and want to boost the heat in your sitting room or bedroom for when you get home.
The new partnership allows even more comfort for users with the temperature in every room in your house now fully controllable via the MiHome app.
Energenie MiHome - A Smart Home For The Price Of A Smartphone
MiHome allows you complete control of your lighting, heating and appliances via your smartphone, tablet or laptop from anywhere in the world. The range of smart devices includes light switches, wall sockets, radiator valves and motion sensors.
The complete Energenie MiHome range can be viewed here in our web shop, all parts available for express delivery worldwide.