After our most successful year ever in 2018, we have put strategic sales & marketing plans in place for 2019 that will cement Demesne's position as Ireland's leading distributor of electrical control, switchgear & energy saving products.

Distributor of the Year
We were delighted to be awarded the Distributor of the Year at the EIFI annual awards in September 2018. The award was voted by a wide range of people in the electrical industry.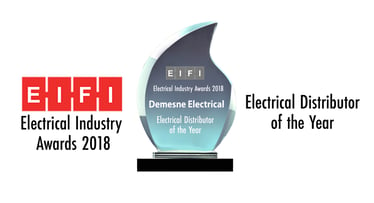 Electrical Trade Show 2019 - Venue Announced Soon
We have ambitious plans in 2019 to host our biggest ever electrical trade event. We last hosted our own trade event in 2015, named the Electric Picnic.
For 2019 we are already planning a bigger and better trade event for quarter 3 of 2019. We have a venue provisionally booked, one that we think will draw in crowds from all over the country.
As with our previous events we will have our industry leading suppliers from around Europe in attendance with the latest products for the electrical industry.
Our other 2019 plans will be revealed early in the new year. Keep an eye on our blog here on our website and on our popular social media channels to be kept right up to date.
Demesne Catalogue 2019
Our 2019 catalogue is near completion and will be available in both soft and hard copies at the beginning of January 2019.
For 2019 we have a number of exciting new products to add to our already extensive range of products. Now for 2019 includes:
Interflex Stainless Steel basket
Zofre Cable Crimping & Cutting machines
Delta DC Power Supplies
Defender Cable Protection systems
& much more....
Reserve Your Copy Here
To register for your copy of our 2019 catalogue simply click the image below and fill in your details.