We are currently recruiting for an External Technical Salesperson to cover Cork and Munster area.
External Technical Salesperson Job Vacancy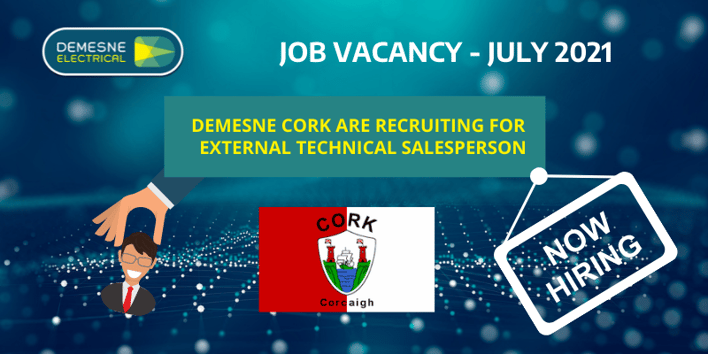 Primary Job Function:
This is an excellent opportunity for someone that is customer focused and interested in assisting and implementing quality and process improvements within a fast-paced environment. Sell the Demesne product range in the territory/market area you are responsible for, and as set out by Demesne while delivering the target set by management and agreed with you. Provide technical support to the branch/market area that you are attached to.
Key Results Areas (K.R.A.'s):
Product Knowledge
Become efficient and comfortable with selling the Demesne range of products with ongoing training for updates on products.
Product Sales
Source potential sales opportunities for Demesne products in the territory/market area that you are responsible for and follow up on those opportunities to convert as many as possible into actual sales.
Sales Calls
Set out and follow a plan to actively make 16-20 face to face sales calls per week and ensure each call is reported under CRM reporting system.
Sales calls to be planned each Friday for the following week and Fridays should be used to follow up actions/quotes from the previous week.
Sales calls should be carried out in a professional manner and where possible appointments should always be made in advance. (if appropriate)
Additional Sales Roles.
Carry out additional sales roles as defined by the Sales Director and pass on any Sales Leads to the relevant branch/market area.
Attend sales meetings as set out my Demesne management.
Follow the sales strategy as set out by Demesne and agreed in advance with you.
Technical Support for the Group
Act as general technical product support for the group when required.
LOCATION: Little Island, Cork
HOURS: Fulltime (Monday to Friday)
THE REQUIRMENTS: Desirable for this role:
Min 2 years' external sales experience in a similar role or industry
A technical qualification
SALARY: In line with qualification, experience and product knowledge
START DATE: Immediate
CONTACT: Email: corona@demesne.ie