Join a Winning Team
Since 1977 Demesne Electrical has grown from humble beginnings to become Ireland's leading independent distributor, importer & supplier of industrial electrical components.

In over 40 years of business we've fostered a culture of innovation and entrepreneurship, building robust and rewarding partnerships, investing trust and responsibility in our team, navigating external challenges, and relentlessly focusing on the road ahead. We've put customer service at the heart of our business, put faith in our people and been rewarded with over four decades of consistent business growth.

Now, as we look to the future, we are excited about continuing a path of further innovation and excellence.
We Are Hiring..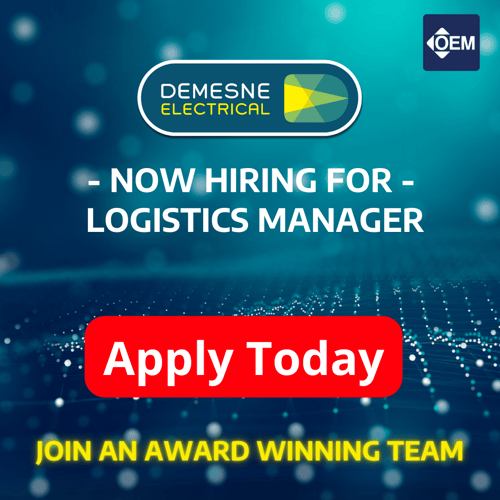 Primary Job Function:
Manage the day-to-day operation of the main warehouse and distribution centre in Dublin ensuring that orders received are dispatched in a timely manner, by ensuring all goods received are processed and placed in stock by close of business the next working day.

At all times ensure that maintenance of the housekeeping in the warehouse at a high standard.

Liaising with sales and purchasing departments in their day-to-day operations, and with HR on any personnel matters.
Key Results Areas:
1.

Goods In
Direct and manage all goods in, ensuring all stock is put into stock on the day of receipt by close of business on the next working day.
2. Goods Out to Customers
Direct and manage the delivery of product to our customers to ensure all orders received before 4pm are dispatched the same day. Supervising the pickers and ensuring the accuracy levels are kept at a required standard.
3. Freight Cost / Out:
Manage the cost of freight for goods outgoing to customer, keeping within budget guidelines set out by the finance department. Maintaining good relationships with carriers.
4. Stock Management
Assist in the managing of the stock controller helping him to ensure the accuracy of stock, and bin locations through the company is kept at the required standard.
5. House Keeping
Keeping responsibility for the high standard of good housekeeping expected in the warehouse and ensure that good health & safety rules are adhered to as a statutory requirement, by training staff adequately to carry out their duties safely and efficiently.
6. Environmental
Manage all the waste/recycling to minimise disposal costs and maintain safe storage.
7. Repak & Wee
Manage all the Repak and Wee for the business as required.
8. Other
Implement new logistics plans, continually access / audit / improve to suit the business as it evolves.
Manage policy for warehouse procedures, and best practice throughout the Group.
Undertake additional roles and responsibilities that may become necessary from time to time as required by senior management.
Benefits:
Salary in line with experience
KPI's & Bonus
Pension & Healthcare


Key Skills
Interpersonal skills – the ability to work well in a team, as well as to manage and motivate others.

Logical reasoning and problem-solving skills.

The ability to think creatively.

Skills in data analysis.
Contact:
For Full Details or Application - Contact: corona@demesne.ie or submit your CV HERE