WE ARE HIRING, due to continued expansion, for a number of roles in Dublin & Dungannon.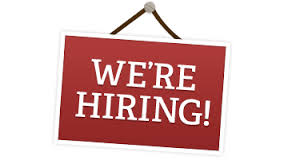 We are currently recruiting for a number of roles, all info below...
Full-time Receptionist based in our Tallaght HQ
The main aspects of the role will be:
· Answering Incoming Calls via LYNC
· Meeting & Greeting Customers and Visitors
· Scanning & Indexing of documents
· Distribution and handling of incoming and outgoing post
· Running general reports from Excel for different departments
· Any other General Administration duties that are required on a day to day basis
· Previous reception experience is desired
Closing date: Friday 30th November 18
Stores Person required in our Dungannon Branch
ROLE requires a fulltime person to work in all areas of the warehouse.
* Picking product for dispatch to the relevant areas.
* Ensuring all products are off loaded in the correct manner for storage and delivery.
* Computer Literate is desirable.
* Strong attention to detail is required.
* Excellent analytical and problem solving abilities.
* Ability to work to tight deadlines
* Ability to work on own initiative
* Full-time position with 6 months' probation
* Ensure that all goods-in documentation are checked correctly with full traceability
* Stock Management
* Current Forklift licence required.
* Compliance with all Health & Safety regulations
* Ensuring Good Housekeeping standards in warehouse
* Other ad-hoc duties requested by supervisor/manager areas if required.
* Flexibility regarding working hours is desirable
* Will provide support and assistance within the showroom.
* MINIMUM of 2 Years' experience in similar role is required.
* Salary based on experience and qualifications
Full Time Trade Counter Sales Person Dublin 24
The Main aspects of the Role will be:
To process customer orders promptly and efficiently over the Trade Counter in the Tallaght Branch while adhering to procedures and best practice at all times.
Responding to customer enquiries through call-backs and e-mail to ensure we deliver a top level of customer service.
Be a team player within our organisation and through our extensive training become efficient with our Industrial product range.
Experience in the Trade or Sales background would be a big advantage to this role, but full training will be provided.
Salary will be negotiable based on experience and knowledge.
Apply to corona@dememsne.ie with your CV and contact details for all roles above.