Demesne Electrical are stocking a complete range of Stainless Steel Cable Basket, accessories and wall supports. All the info you need is here...
The range of STX cable basket is available to order now and will be available on same or next day delivery in Ireland and 2-3 day delivery to the U.K.
Our suppliers Interflex have been manufacturing stainless steel basket and cable tray in Italy for more than 30 years.

Stainless Steel Wire Mesh Cable Tray System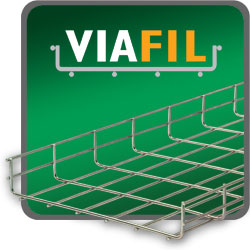 The electro welded VIAFIL cable trays present the advantage of being highly light and easy to install with numerous advantages:
Highest self ventilation: Its structure allows an optimal self ventilation and a minimum dust accumulation.
Highest safety: Rounded ends avoid injuries during the installation process.
Highest conformation: By means of a cut tool the tray can be modeled in curves, reductions, derivations,... directly in the installation site.
Our Stainless Steel Cable Tray range will be available in 4 sizes covering most applications:
R0606I- 60x60mm
R0610I- 60x100mm
R0615I- 60x150mm
R0620I- 60x200mm
And a complete range of STX Cable Tray accessories...
UURI - standard coupler with bolt.
UFRI- Fast coupler with no bolts. Click-on type
FSRI- coupler for tray to support
SCRI- Central suspension clamp to be used with threaded rod (installation to
ceiling)
as well as Stainless Steel wall supports...
SHE10I- Support for 60mm and 100mm tray
SHE10I- Support for 150mm tray
SHE15I- Support for 200mm tray
Interested In Our Stainless Steel Cable Basket?