Demesne will again be exhibiting at this year's Sustainable Energy Authority of Ireland's (SEAI) Energy Show, taking place in the R.D.S. Dublin on April 5th and 6th. Request your ticket here...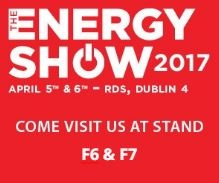 The SEAI Energy Show 2017 promises to be the biggest yet with over 160 exhibitors. The annual 2 day event, hosted by the Sustainable Authority of Ireland showcases the best energy technologies and practices.
This years event includes -
SEAI Energy Theatre

Demonstration Area

Product Of The Show Award Display Area

Electric Vehicle Showroom
Demesne Electrical @ SEAI 2017
We will be exhibiting brilliant new and innovative products from some of our partners, such as -
Energenie MiHome - complete range of Home Automation products allows you to turn your home into a smart home. We will have new products to exhibit within the Energenie range including the Open Sensor and the Motion Sensor.
Voltica LED Lighting Soultions - One of our new partners, Voltica provide a complete lighting solution for all industrial applications. They are one of only a few lighting companies worldwide who offer a 10 year guarantee on their products.
Dehn Lightning & Surge Protection - complete protection for your equipment at home, in work and on site
Telehaase - provide a complete range of control and monitoring relays and timers, allowing you complete control over your energy usage.
If you would like to find out how your business can save energy, or if you work in the energy sector, then the SEAI Energy Show is for you.
Register For Your Free SEAI Show Ticket
If you would like to attend the SEAI Energy Show, simply hit the button below to register.
We will get your ticket in the post to you in the coming days.