The new Schneider Altivar ATV320 range of Variable Speed Drives offer a powerful combination of Connectivity, Reliability, Safety & Robustness.

The ATV320 Speed Drives have been designed to improve machine effectivness in a wide variety of applications, at the same time optimising design and engineering costs for OEM's.
Schneider ATV320 Features & Benefits
Enhanced Automation Capabilities
The Altivar Machine ATV320 offers open loop motor control for asynchronous and synchronous motors, even at low speeds.

Complete connectivity options including CANopen, Modbus, EtherCAT, Profibus and Profinet
Reduced Total Machine Costs
Reduced install costs

Space saving profiles. Book type for control panel mounting and Compact type for mounting in a machine frame

Fewer additional devices needed to manage machine safety and simple logic functions, as both are managed internally withn the drive.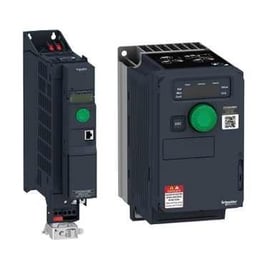 Two Form factors Available - Book & Compact
Engineered for easy, cost effective integration with various machine layouts and
for placement either inside control panels or machine frames.
ATV320 Robust Design As Standard
Coated printed circuit boards to extend machine availability in garsh environments. Can operate at ambient temperatures up to 6-degrees celcius without the need for additional cooling.
FREE Schneider ATV320 eBook Download
Click the image below to claim your free Schneider eBook with all the
product information you will need on the new ATV320 range.