With the rise in storms and unpredictable weather in the UK and Ireland, now is the time to ensure your valuable equipment is protected from lightning strikes and surges...

With the number of lightning storms on the increase our modern homes are susceptible to damage of sensitive electronic items like LED TV's computers,modems,alarm systems etc
Lightning Protection For Your TV, PC, Audio equipment
It doesn't take a direct strike on your home to cause havoc with you equipment, as any ground strike up to 2km away can be transmitted thru the ground. The chances of lightning current is less prevalent in higher density estates.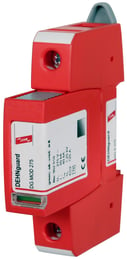 Most modern housing estates would have neutralised earths so anything travelling on the neutral conductor is sent to earth, however it is extremley advisable to fit a single pole type 2 surge voltage protection device on the live conductor from DEHN , part number 952070 which will take surges back to earth and away from your valuable devices.
We can provide no obligation information on how to best protect your home and devices...
Lightning & Surge Protection For Homes
Where housing density is lower it would be advisable to fit a lightning surge protection unit, this two pole device from DEHN , part number 951200 will protect against lightning current and surge voltage.
These items are often fitted at or in the consumer unit by any competent electrical contractor to ensure the protection of all your expensive or sensitive equipment or appliances for a relatively low cost.
Talk To Us Today To Protect Your Equipment
Would you like to talk to one of our trained engineers about protecting your valuable equipment from lightning strikes and surges?
Simply click the button below and fill in your details. One of our engineeres will be in touch...