The age old problem of rust forming on light fittings is one that is extremley hard to fix. Once the rust appears there is only one way that it will end. Most rust stains are near impossible to clean without doing further damage to the fitting and usually end up having to be replaced.
We have teamed up with Q Oils Europe to bring to the electrical industry in Ireland and the U.K. their great range of oils, sprays and protective films.
Q30 Protective Film - Sealing, Rust Prevention, Corrosion Free Surfaces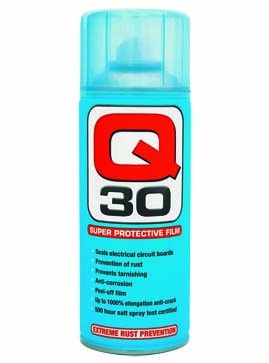 Q30 is a superior protective film for sealing, or prevention of rust, corrosion and tarnishing on various surfaces.
The sealing and protection of circuit boards and electrical connectors, from rust and corrosion which takes place in moist and harsh environments, for example in plants and electric motors in industry andeven residential gate motors.
Protect brass hinges, handles and hardware that are prone to tarnishing primarily in our coastal regions.
Seal leaking skylights by spraying a few coats on all suspected leaking joints.
Protect any steel surface from corrosion.
Seal electrical light fittings from corrosion, dramatically extending the life of these fittings. Simply spray a few coats in the connection and on the bulb fitting.
The uses for the Q30 Film are endless!
Other products in the Q Oil range include...
Q20 Spray - Cleans, Lubricates, Protects
Q20 Spray is the general purpose product in the range. It Cleans, Lubricates and Protects. It is a high performing Lubricant at over 50% more lubrication than the market leading product and has superior water dispersing properties.
Q20 is silicone free and is safe to use on paint work. It can be used in the home, workshop, industry, automotive marine or leisure markets. It comes in the handy 50ml size can or the larger better value 300ml can.
As with all our aerosols it has the 360 ̊ valve to enable the can to be used upside down to stop just the gas coming out and the can being left with product in at the end of the life of it. It gives peace of mind that if you press the button on top, product is released, even when you cannot see the can in a tight spot.
Q90 Industrial Wipes
Q90 are extra large industrial strength hand wipes that contains a high quality liquid hand cleaner formula and a heavy duty, non-scratching, abrasive hand-cleaning towel. They are fast and effective meaning that you can clean your hands wherever you are, without water, without rinsing, without drying and without residue.
No water no soap no residue

Removes oil, grease,wet paint, printing ink& bitumen

Can alsobe used on any smooth & nonporous surfaces
The cleaning wipe has been developed from organic solvents with a high-quality detergent, together with an abrasive wipe (but not scratchy), which ensures a high cleaning power without any danger for epidermis. As well as ordinary dirt, the cleaning wipe is also efficient against heavy greases, lubricants,adhesive, oil, tar, sludge, bitumen, fresh paints, inks, wax and many more persistent stains, such ascharcoal, graphite and grass spots.
Something here of interest?
Click the button below to request a call back from our sales team

OR Click below to shop the QOil range now...