No more messy rolls of heat shrink tubing taking up space in your van, stores or workshop. The new Deray HandyBox range of heat shrink from our suppliers DSG means you can easily store and manage all your heat shrink.

Heat Shrink In A Handy Box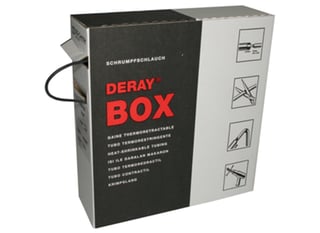 The new DSG HandyBox does away with cut lengths of heat shrink that can end up as a tangled mess.
A perforated opening allows the heat shrink to be pulled through and easily managed.
We have brought in the HandyBox to cover the 5 most popular heat shrink sizes -
HAN64 shrinks from 6.4mm down to 3.2mm

HAN95 shrinks from 9.5mm down to 4.8mm

HAN127 shrinks from 12.7mm down to 9.5mm

HAN190 shrinks from 19.0mm down to 9.5mm

HAN254 shrinks from 25.4mm down to 12.7mm
The deray range of heat shrink is suitable for many applications in the rail, electrical and automotive industries.
All sizes are available in the five phase colours - Black, Blue, Brown, Grey and Green/Yellow.
Looking For Price & Availability On The DSG HandyBox Range?
Please click the button below and one of our sales team will be in touch...

OR VIEW THE FULL RANGE ON OUR WEB SHOP...