Public safety has become a huge issue in recent years. Electrical contractors and consultants need to be aware of the many changes in regulations when it comes to installing electrical cables and conduits in public places such as airports, schools and hospitals.
The advice is to use materials that are non-hazardous in case of fire.
Fumes that are produced during a fire are actually more dangerous to people than the fire itself. For this reason, LSF Cables have become more prevalent in the industry, but these are not necessarily the answer anymore.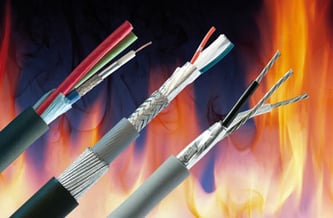 What Is LSF Cable?
LSF Cable is manufactured from PVC. These cables can give off a thick black smoke and poisonous fumes when burnt as they are made up of a modified version of PVC.
The amount of PVC present in these cables can differ from manufacturer to manufacturer which makes installing LSF Cables in public places a complete gamble.
LSHF Cables | LS0H Cables | LSZH Cables
This brings us onto Low Smoke Halogen Free Cables, or whichever variation you prefer:
LSHF Cable - Low Smoke Halogen Free

LS0H Cable - Low Smoke 0 (zero) Halogen

LSZH - Low Smoke Zero Halogen
LSHF Cables when burnt give off very little smoke, grey in colour and little or no hydrogen chloride. There is a complete lack of PVC in these cables, hence no harmful fumes are given off in case of fire.
They are manufactured from thermoplastic compounds meaning no halogen is emitted.
Other benefits of Low Smoke Halogen Free cable is that they are much lighter to work with and are more environmentally friendly.
Lets Talk About Your Application & Requirments
We have LSHF Cables and LSHF Flexible Conduit options to suit most applications.
If you require any assistance choosing the correct cable or conduit for your application, please click the button below and we will be in touch...