Dehn are world leaders in manufacture and supply of lightning & surge protection systems now offer a 4 Pole surge protection unit complete with a built in fuse unit.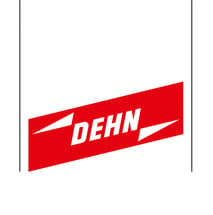 Demesne are proud to be the main agent in Ireland for DEHN Lightning and Surge Protection devices
The DEHNguard M/S CI surge arresters combine surge protection and safety in a single device and is one of Dehn's most user-friendly devices.
The Dehn 952406 surge arrester is a 4 Pole device that benefits fom having it's own internal fuse. This frees up space inside switchgear panels. This prewired unit has shorter cables making for a vert quick and easy installation.
The complete unit consists of a base and plug in protection modules.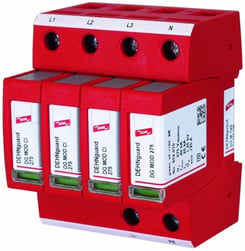 Dehn 952406 Features
Energy coordination with other arresters of the Red/Line product family

High discharge capacity

High reliability due to "Thermo Dynamic Control" SPD monitoring device

Easy replacement of protection modules without tools due to module locking system with module release button
DEHNguard surge arresters are energy coordinated with other surge arresters of the Red/Line product family.

Dehn Datasheet Download
You can download the Dehn 952406 product datasheet by clicking HERE
Request A Call Back
Or if you require further assistance, please click button below to arrange a call back from one of our sales team...