Want to learn more about Lightning & Surge Protection? We have a FREE e-catalogue and eLearning course from our partners Dehn for you.

Dehn focuses on protecting you and your equipment at home, in offices and on site with their world renowned range of lightning and surge products. The Dehn pioneering spirit has, for over 100 years, made them the global leader in key areas for today's electrical engineeering industry -
Lightning protection

Earthing equipment

Surge protection

Electrical safety equipment
FREE Dehn Lightning Protection Guide - Request Yours Here
We have the new Dehn Lightning & Surge Protection Guide available to send out.
The e-guide comes in a credit card size usb stick and has information on
Installation of lightning protection systems

Designing a lightning protection system

Internal & external lightning protection

Selection, assembly and installation of surge protection devices

and many more related topics...
Click below and we will get your Dehn Lightning Protection Guide in the post to you today...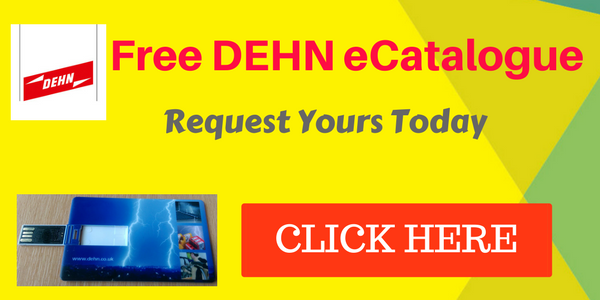 New Dehn Lightning and Surge eLearning Facility
We at Demesne are delighted to announce that Dehn have launched an excellect new eLearning facility. This new facility makes it easy to understand lightning and surge protection and how it can affect your applications.
The courses are built in a way that electricians, engineers, I.T. professionals and the casual D.I.Y.'er can learn the answers to all of the following questions -
What is the difference between a direct and an indirect lightning strike and how do they affect buildings?

What are the causes for surges and how do they threaten electronic systems?

What has to be observed when installing surge protective devices and how can installation errors be avoided?

Are there special requirements for IT system